We were born on this planet, but our fate is uncertain. Humans were created to grow, reproduce, and die.
In fact, no matter what situation one finds himself in, death is on the horizon.
When someone dies, the body is taken to a mortuary to be stored before the deceased's family has made all of the necessary funeral arrangements.
When bodies are transported to the morgue, we have staff there named morgue men who are in charge of keeping the bodies clean and undamaged before burial day.
This morgue men have helped and continue to support the country with their contributions to its growth.
Ghanaians would find it impossible to preserve dead bodies if these people stop running, so they are very important in our lives for as long as we survive on this planet.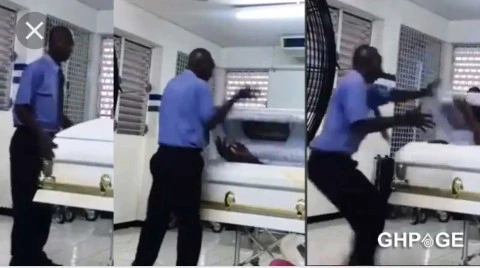 When a deceased body is brought to the morgue, the morgue men examine it to see whether it is a dead body or whether the individual is still alive.
Mr.Quaye Mensah, who has worked as a morgue man for many years and has a lot of experience, has introduced some people to morgue work through him.
There was a man whose family thought he was dead one day.
The body was taken to the morgue by family members for storage.
When the morgue man attempted to access the dead body, the individual awoke, causing the mortuary man to flee as if he were a newcomer to the work.
As the days passed, the mortuary man developed a debilitating illness due to the shock of the incident and that eventually progressed to a stroke. The condition in which the morgue man found himself is extremely serious, and we can all pray for him.
watch video below;