Apostle Francis Ohene Adu of Beulah Land International revealed that late President Jerry John Rawlings sacrificed Ghana's financial freedom to three gods in Obuasi, Ashanti Region.
In a televised address to Ghanaians, Apostle Ohene Adu stated that until the covenant is broken, Ghana will struggle to accumulate riches for growth.
He said God's spirit revealed to him in a vision the numerous terrestrial spirits and gods who rule Ghana. In the vision, three gods dressed in gold fabric charged towards the Apostle.
According to him, these three spirits are Ghana's financial managers, whose manipulation decides the wealth of Ghanaians and the nation at any given time. Apostle Ohene Adu said the three spirits threatened his life because he intercedes for Ghana.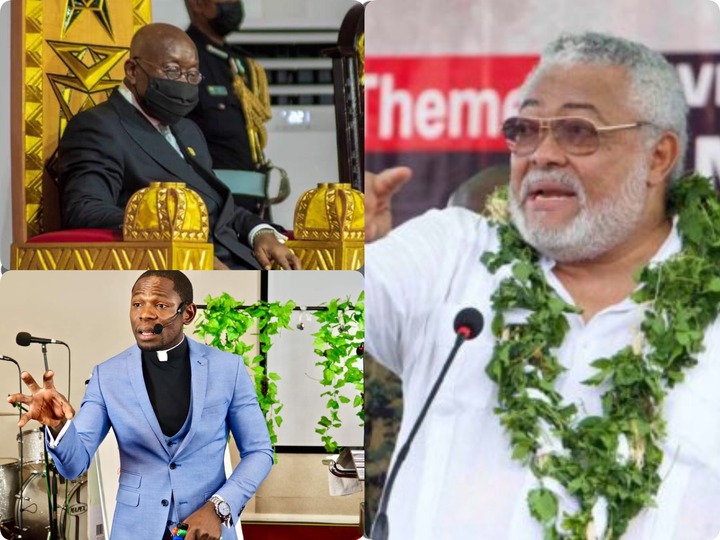 His prayer disturbed the three spirits Kwabrafo, Akapori, and Hwiasiamo, who questioned him if he knew they ruled Ghana because of Rawlings' actions.
The Apostle did not elaborate on Rawlings' pact with these spirits but noted that the message is designed to inspire Ghanaians to pray for the nation, not for him or his family.
"Do you pray for Ghana? Pray for Ghana? Do you know our agreement with Ghana? Do you know what J.J Rawlings got us for Ghana? They say they won't let me inside my body. I'll die here, "he told.
Fearing for the nation's future if our leaders fail to follow God's will, Apostle Ohene Adu advised Ghanaians to believe they are a nation of Christ and cannot be damaged. He revealed that our ancestors' contracts with certain spirits robbed us of our wealth.
"You are a joke if you think Ghana is Christian. Ghana can only be a Christian nation if the heads make a covenant with God."
"We shall try but Ghana will still struggle unless our national leaders step up and reverse curses and covenants made with devils."
He urged President Akufo-Addo not to be intimidated by detractors of the National Cathedral. And by doing so, the President will break every bad covenant our leaders have had with demonic spirits in the past, and renew a commitment with God for the nation.