A little boy from Mpumalanga, South Africa, who made news after sharing a photo of himself embracing an old grandmother has a lot of admirers.
The teen's Facebook name is Bongani Eiman, and according to his page, he was born on April 9, 2003, making him 18 this year.
"uLoml, I understand she's old, but love isn't always about age," Bongani said in the picture's caption. My sixteenth birthday is April 20th, and I adore you, Wena. When I am with you, the easiest thing I can do is hug you close… keep you warm, and I will never be able to help you exceed your SOULMATE "
Bongani shared recent photos of himself and the senior lady wearing jewelry while complimenting her on a BMW M3 and an iPhone 12. It looks that the couple are also engaged.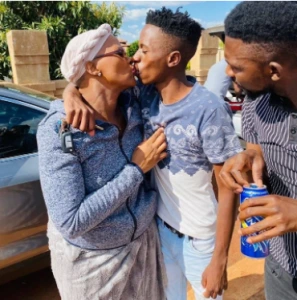 ABOUT AUTHOR
Adinkrah Cyril is an established web designer, computer instructor, and content creator. He creates blog content for bestshowbiz.com as well as it's associate strings of websites.
As a content creator, Adinkrah is good at his work and his engaging contents have earned him a nomination as one of the best bloggers in the country. Contact Adinkrah Via Email
You can also contact anyone associated with bestshowbiz,  through the website's contact page located on the header of the website.