During wedding ceremonies, most couples use beautiful private cars as a mode of transportation.
There have been exceptional wedding ceremonies in which the couples used motorcycles, tricycles, excavators, horses, and taxis.
However, this couple is trending after they chose to have their wedding ceremony by helicopter.
If you look closely at the video, you can see a man directing a helicopter in the sky to land where he was standing.
As the helicopter touched down on the ground, a beautiful woman dressed in an African wedding gown stepped out.
This bride was accompanied by family members, flower girls, and boys. The groomsmen were waiting for her to accompany them to the wedding venue. When some Ghanaians saw this, they said it was beautiful.
Others have stated that this is too expensive, and as a result, a couple who does not have the means should avoid bothering themselves with hiring one.
Some social media users criticized the new couple for wasting money because marriage is full of surprises. As a result, they should have put the money aside for something else.
Video.
Check out some of the reactions from Ghanaians who saw the video: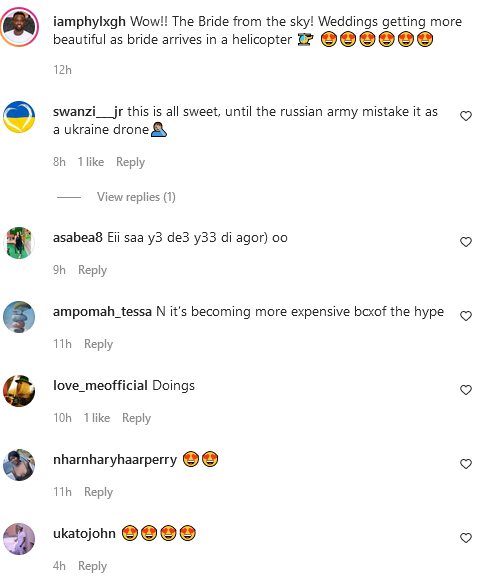 Effah Gideon is publicly known as Anisco Army, he is a content creator and very passionate about what he does. Effah is also a Graphic Designer and has done a variety of graphic works for numerous clients. Email Effah at [email protected].
Social links to Effah's profile can be found by clicking on the social icons below.
You can also Contact anyone associated with bestshowbiz or the site admin through the website's contact page located on the header of the website.