According to reports, the Konongo Police Command is pursuing five fire service officers for allegedly stealing GH30,000 and an iPhone from the Paramount Chief of Sekyere Kwamang, who died instantly in an accident.
According to sources, five fire personnel deployed to the accident scene on a rescue attempt grabbed the dead chief's GH of 30,000 Cedis and IPhone and took them into custody.
As the inquiry continues, the firemen have steadfastly refused to reveal the things in their possession. Attempts to find and question the five cops were futile.
As a result, the Konongo Police Department issued an official letter to the fire department leadership requesting that the 5 officers be present to answer inquiries.
Sekere Kwamang Paramount Chief, was killed, along with two others, in a horrifying accident involving his 44-plush truck. We hope and pray that the police department recovers the money and phone for the deceased chief's family.
check the post,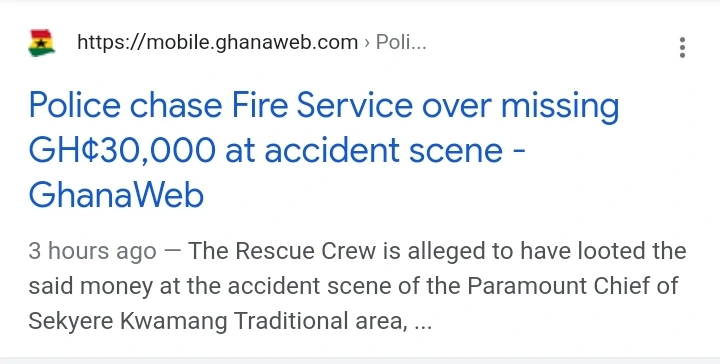 I go by the name Effah Gideon publicly known as Anisco Army, I am a content creator and very passionate about that. I am also a Graphic Designer and can be contacted via email at [email protected]