NEWS
Pappy Kojo accused of recording Sister Derby while chopping her – Screenshots
– Sika Official accuses Pappy Kojo of recording his intimate encounter with Sister Derby.
– Yvonne Nelson discovers the video and confronts Sister Derby.
– Sister Derby initially denies the accusation but is shocked when presented with the evidence.
– Sika Official's tweets about the incident and its aftermath.
Sika Official Accuses Pappy Kojo of Recording Intimate Encounter with Sister Derby
In a shocking revelation, Sika Official, a renowned Ghanaian freelance blogger, has taken to social media to accuse Pappy Kojo of secretly filming his sexual encounter with Sister Derby. According to Sika Official's tweets, Pappy Kojo not only engaged in the act but also stored the video on his phone. However, the situation took an unexpected turn when Yvonne Nelson stumbled upon the explicit recording and decided to intervene.
It is reported that Yvonne Nelson, a close friend of Sister Derby at the time, discovered the video and immediately confronted her about the incident. At first, Sister Derby vehemently denied ever being involved with Pappy Kojo, leaving Yvonne Nelson perplexed. However, the truth came crashing down when Yvonne Nelson decided to show Sister Derby the undeniable evidence.
Sika Official's tweets shed light on the aftermath of the confrontation between Yvonne Nelson and Sister Derby. The latter was left speechless and shocked after being presented with the video recording. The evidence left no room for denial or further deception, exposing the truth behind the alleged intimate encounter.
This scandalous revelation has sent shockwaves throughout Ghana's entertainment industry, captivating the attention of social media users and fans alike. Sika Official's tweets have ignited a frenzy of discussions and debates, with many expressing their disbelief and curiosity about the incident. As the story continues to unfold, it remains to be seen how Pappy Kojo and Sister Derby will respond to these allegations and the impact it will have on their personal and professional lives.
In conclusion, Sika Official's claims regarding Pappy Kojo's recording of his intimate encounter with Sister Derby have caused a major stir in the Ghanaian entertainment scene. The involvement of Yvonne Nelson and the subsequent revelation of the video has added fuel to the fire, leaving Sister Derby exposed and speechless. As the story develops, it will undoubtedly continue to captivate the attention of the public, raising questions about the boundaries of privacy and the consequences of one's actions in the digital age.
Sika Official tweeted…
Hi Pappy Kojo, you 'allegedly' recorded a video of yourself and sister derby making out and Yvonne Nelson found out. How did you handle this issue at that time?
Yvonne Nelson 'allegedly' found out and confronted Sister coss they were friends. Sister Derby deny wey Yvonne Nelson show am the video. Joey was lowkey seeing sister Derby by then. How did this go Pappy?
Hi Pappy Kojo, you 'allegedly' recorded a video of yourself and sister derby making out and Yvonne Nelson found out.

How did you handle this issue at that time?😁

— SIKAOFFICIAL🦍 (@SIKAOFFICIAL1) June 28, 2023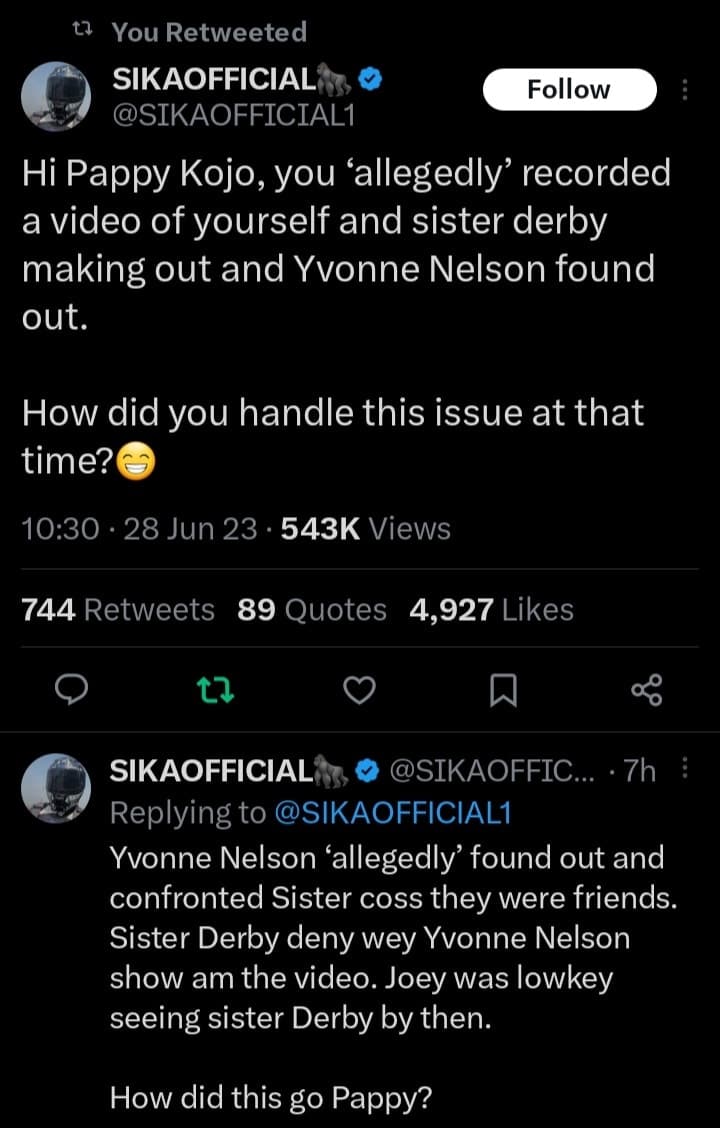 [ads2]