NEWS
Only senseless men spend millions on brideprice of a woman that other men chopped for free – Man claims
In a recent Twitter post, Nigerian man King Chidi expressed his belief that it is unwise for men to spend vast sums of money to marry women who have been intimate with multiple partners for free.
Chidi, known for his outspoken views, argues that any man who pays the bride price for a woman with a promiscuous past and lavishly spends millions on their wedding is displaying foolishness.
He compares the act of paying the bride price to reimburse all the men who have engaged in previous relationships with the woman. This statement has sparked a debate on social media platforms.
Chidi tweeted, "Foolishness is spending millions on • bride price • marriage lists • wedding ceremony For a woman who several men knacked for free.
It's like paying all the men who once slept with her for all the years of services they render to your promiscuous wife's overused kpekus."
In a follow-up tweet, he wrote, "BITTER FACTS That non-virgin woman you're paying millions for her bride price will invite most of the men who fucked her for free in the car, toilet, bushes, clubs, etc., during your wedding ceremony. And those same men will shake you and tell you that you're lucky to have her."
below is his post;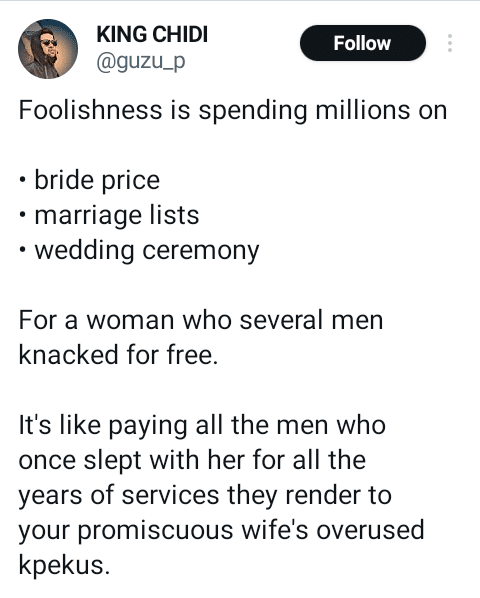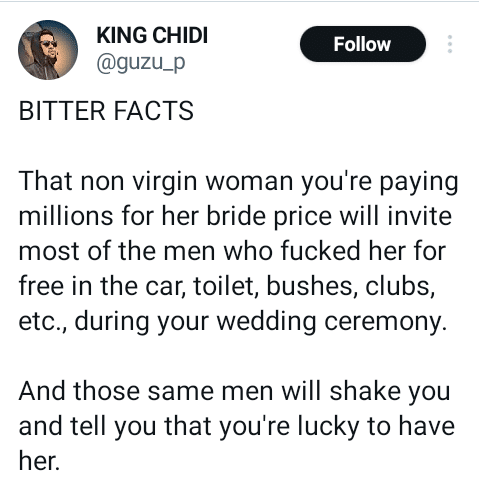 [ads2]