MzGee, a media personality, has cruelly responded to charges that she published embarrassing recordings of legendary Ghanaian actor Psalm Adjeteyfio pleading for leftover food.
According to MzGee, she did not share the recording and has no idea where such allegations are coming from because she has always backed Psalm Adjeteyfio, alias T.T.
She went on to say that she was the one who broke the news about T.T's suffering and asked for aid for him, and since she's been so involved in his case, she can't be the one to share the trending audio.
In an audiotape, T.T is heard requesting former TV3 employee MzGee for leftover meals because he is in a bad circumstance.
T.T said that he is back in financial trouble after investing the money given to him by Vice President Dr. Bawumia.
According to T.T., Dr. Bawumia's assistance has gotten him into problems since many individuals who used to support him have abandoned him.
Also, after learning that Dr. Bawumia had given him GHC 50,000 to cover his rent and upkeep, several persons who had agreed to assist him rescinded their assistance (GHC30,00 for rent and 20,000 for his upkeep)
T.T also stated that the Greater Accra minister, Henry Quartey, who promised him a monthly stipend of GHC1,500 is not forthcoming after getting it for the first month, and that he requires assistance.
Ghanaians have had different reactions to the news; while some blame T.T for mismanaging such a large sum of money in such a short period of time, others blame MzGee for sharing the humiliating tape.
Here's how MzGee has handled the public backlash: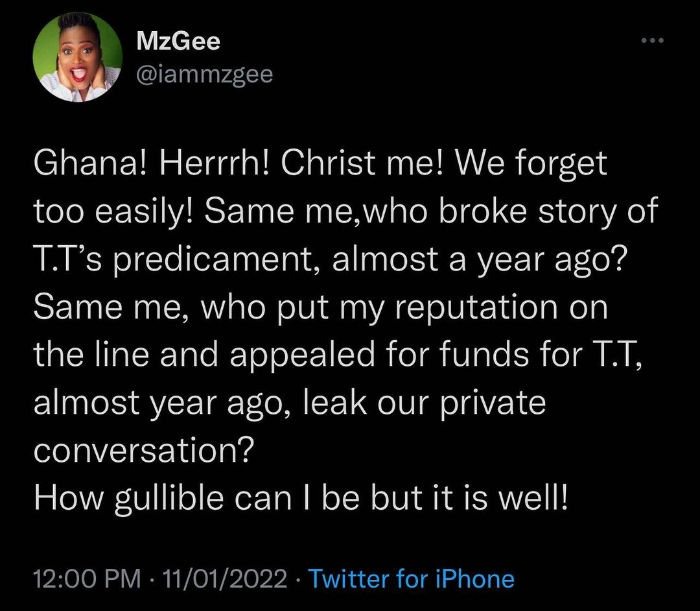 ABOUT AUTHOR
The public have an insatiable curiosity to know everything, except what is worth knowing so I write what's need to be written. An online critic and sports fanatic with a Degree in Telecommunications Engineering.