The Anglican Diocese of Cape Coast ordained its first female priest last week, according to reports. The announcement was shared on social media with a photo of a young woman dressed in a white priestly robe and beaming.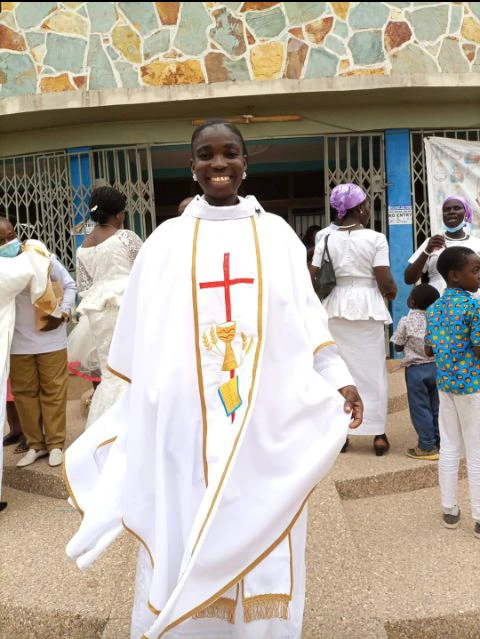 However, according to CitizenOne's independent research, the claimed ordination took place last year at St. James' Anglican Church in Agona Swedro, Central Region.
The well-attended event was the first of its type in the Cape Coast diocese, and two priests were ordained. Rev. Mrs. Vida Gyaben Frimpong and Rev. Oheneba Ogyabea Onoma-Ehuren were their names.
The Diocesan Bishop, Rt. Rev. Dr. Victor Reginald Atta Boafo, exhorted the two priests to provide selfless and dedicated service that will bring more people to Christ, according to a statement obtained by CitizenOne from the diocese's website.
Despite demands from throughout the world for the church to change its stance, the Roman Catholic Church is the only orthodox Christian organization that does not appoint women as priests. Some dioceses in the United States went against the order and ordained women, but the Pope later stated that those women would not be recognized as priests in the church.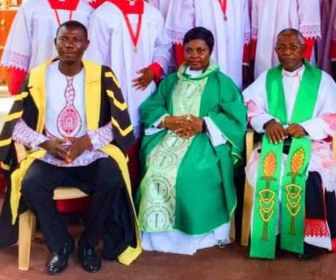 Pope Benedict XVI (Pope Eemiretus) clarified the duties of women in the church, saying that while they are permitted to read during Mass, assist at the altar, and dispense communion, they are not permitted to serve as priests.
Other orthodox religions, such as the Anglican, Methodist, and Presbyterian churches, do, however, ordain women. The Anglican church is the most similar to the Catholic church of the three. The Roman Catholic Church and the Anglican Church have a lot in common. However, there are numerous differences between the two that many people are unaware of.
Priests in the Catholic church, for example, preserve celibacy in addition to the ordination of women, whereas those in the Anglican church marry. Among other distinctions, the Anglican church accepts homosexual weddings, but the Catholic church does not.
In St. Anselm's Anglican Cathedral, Sunyani, the first woman to be ordained as an Anglican Priest in Ghana was ordained thirteen years ago.
Rev. Hannah Dwomoh, a Nkoranza native, was her name. Other female priests have joined the holy orders as priests in other dioceses around the nation since then.