The President of Ghana never had a son, and despite the fact that his girls are said to number between three and five, nothing is known about the actual number of children he was blessed with.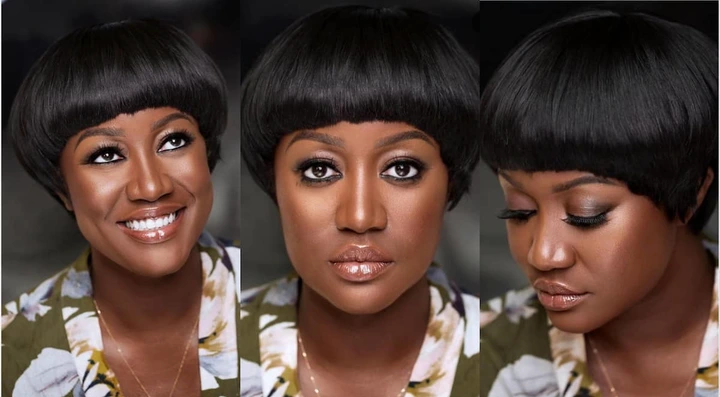 H. E Nana Addo's first daughter, Valerie Obaze, was born to him and his mother, Virginia Hesse, when they were both in the United Kingdom, and although they had a child together, they never married.
The second born is Gyankroma Funmi Akuffo-Addo, and based on her Nigerian name "Funmi," your guess is as good as mine, as this second-born was with his first-ever legally married wife, a Nigerian woman named Femi Atta, who is the biological mother of President Nana Addo's currently appointed Personal Secretary, Saratu Atta.
Edwina Akuffo-Addo is said to be the third child of H. E Nana Addo, and maybe more intriguingly, Edwina has her own mother, bringing the total number of women in the President's life to four (4), excluding the first lady of Ghana
Edwina, who is constantly smiling and is undoubtedly the family's iPhone smart and "Lets-Take-a-Selfie-Always" type, was born in 1984 to Akufo-Addo and Eleanor Nkansah Gyamenah, also known as Obaa Saa. She was a monarch in the Ashanti Mampong traditional region and was from Ashanti Mampong. Nana Addo married this lady after formally divorcing his Nigerian wife for unknown reasons.
Eleanor Nkansah Gyamenah, who suffered from Rheumatoid Arthritis, died suddenly in the early 1990s, ending their romance and marriage.
Edwina Akufo-Addo, like other Ghanaian politicians' children, had her secondary and tertiary education in the United Kingdom, where she attended La Sainte Union Catholic School in London with her elder sister, Funmi.
Edwina Nana Dokua Akufo-Addo is an entrepreneur who, though nothing is known about what she is now doing, formerly ran her own clothing boutique in Osu called Eleanor's Closet. This store first opened its doors in 2012. The boutique, which advertised itself as "out of Paris," catered to some of the most prominent female celebrities of the period with high-end top designers and custom clothing.
Edwina has not kept out of issues, despite her relative silence in Ghanaian politics. BOST was thrust into the spotlight in 2017, just months after her father's eventual victory and inauguration as President, when it was revealed that it had sold 5 million liters of contaminated products to unlicensed companies in a deal that several observers claim cost the country millions of cedis.
see more of her photos;