NEWS
"I'm 30 And Looking For Love But I Can't Cook & I Can't Wash" – Nigerian Lady Says
A Nigerian programmer, by name Oluwaseyifunmi, who recently turned 30, has revealed that she is looking for love.
She took to Twitter to share this message of hers which she added that she can't cook nor wash.
"I'M 30 AND LOOKING FOR LOVE. I CAN'T COOK, I CAN'T WASH AND I'M OFTEN TOO PREOCCUPIED WITH WORK. TWITTER, FIND ME A BOYFRIEND. SHE TWEETED.
She went ahead to say that before she can even date, you have to prove your husband material skills to her.
"I'M ONE OF THOSE LADYS WHO knows EXACTLY WHAT THEY WANT IN A MAN AND GO FOR IT. BEFORE WE CAN EVEN DATE, YOU HAVE TO PROVE YOUR HUSBAND MATERIAL SKILLS TO ME. CAN YOU COOK? CAN YOU WASH? CAN U CHANGE A BABY'S DIAPER? CAN YOU POUND YAM? CAN YOU KILL AMINALS? CAN YOU FIGHT? HUH?" she added
see actual tweet below: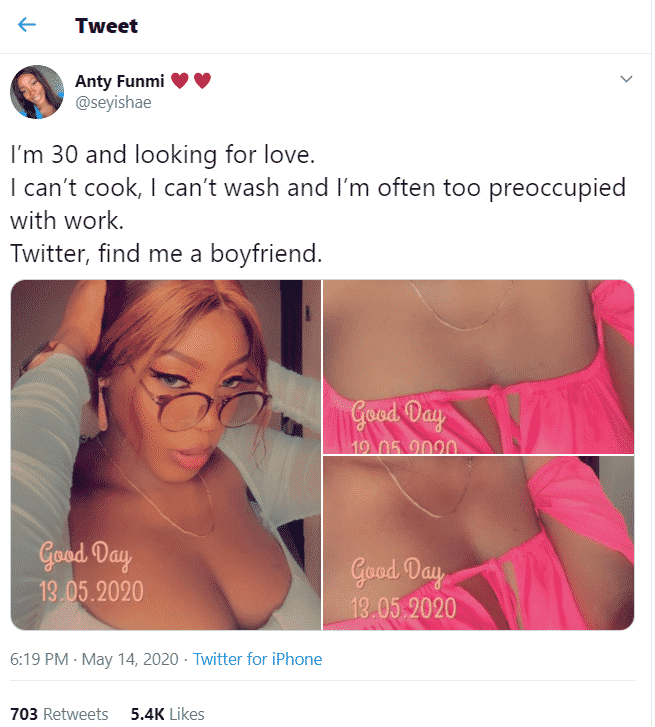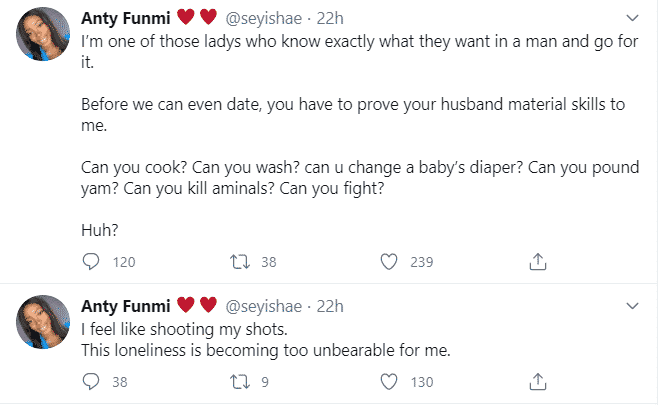 [ads2]