Fearlessness does not imply courage. Courage is not letting fear stop you.
Here is Jacklyn's story.
Jacklyn and her family had a happy childhood until an incident changed Jacklyn's life forever.
She awoke in a hospital with her hands and right eye detached. Jacklyn struggled to live without her hands and one eye. Months later, she was sent back home, alone, with no family to call. Her family's home had been rented out, leaving her homeless. She moved to the streets and begged to survive until she grew up and got used to this life.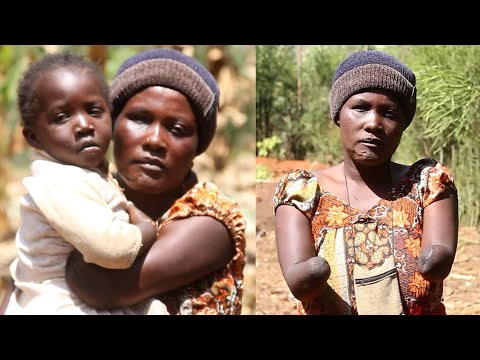 No man wanted her as a wife in her condition. Love her for who she was was hard to come by. Jacklyn was lonely and needed company. She hired a man to get her pregnant and deliver her. So she'll have a child to keep her company and someone to call family. Jacklyn had to work for years to pay the man to get her pregnant. She finally got the cash and paid the man.
He conceived her. Jacklyn had a baby girl. Jacklyn was overjoyed because she would no longer be lonely and have someone to call family. Jacklyn now has to work harder to support herself and her daughter financially. Jacklyn, despite her disability, does things like digging, washing, fetching water, cooking, washing dishes, and more. The lack of assistance forced her to learn this on her own.
Her parents and siblings died when she was ten. Armed robbers attacked them in their homes. Her parents were murdered in front of her. Jacklyn could only scream. The armed robbers were enraged and removed her right eye and hands. So they left her for dead in a pool of blood.
Jacklyn now works on other people's farms to support her daughter.