Seth Kwame Dzokoto, a Ghanaian comedian, actor, and politician, presented new charges regarding Captain Smart on Kofi TV.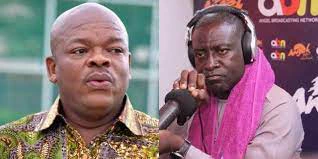 Captain Smart accused Kwame Dzokoto of being the one who ruined his potential, and Kwame Dzokoto replied.
Kwame said he did not react because he did not want to, although he had been silent for a long time. Captain Smart, according to Kwame Dzokoto, has a criminal record near the police station where he used to work.
Some NDC members, according to Kwame Dzokoto, offered Captain Smart money to travel and share with Western media.
Captain Smart decided to read the comments and opinions of his devoted fans today. One of Captain Smart's viewers sent a comment, which he read aloud.
That individual verbally assaulted Captain Smart and demanded that he come out and answer Kwame Dzokoto's claim.
This was the viewer's response; "You are an idiot. Explain how you plan to improve the country. Come out and defend yourself against Kwame Dzokoto's remark. "
Captain Smart responded in reaction to the remark, claiming that he had not heard what Kwame Dzokoto had said about him. He then inquired about Kwame's remarks regarding him with his management.
Later, he responded by saying that he does not answer to everyone and that he is extremely careful about who he responds to.
"What was Kwame Dzokoto's opinion of me? I have not heard anything about it. What did he have to say about me? I have the option of not responding. I do not always reply to everyone. Thank you, though, for insulting me "Captain Smart, I salute you.