A young woman who has fallen head over heels in love with an elderly guy has fought back at the critics, claiming that their bad words will not change her mind.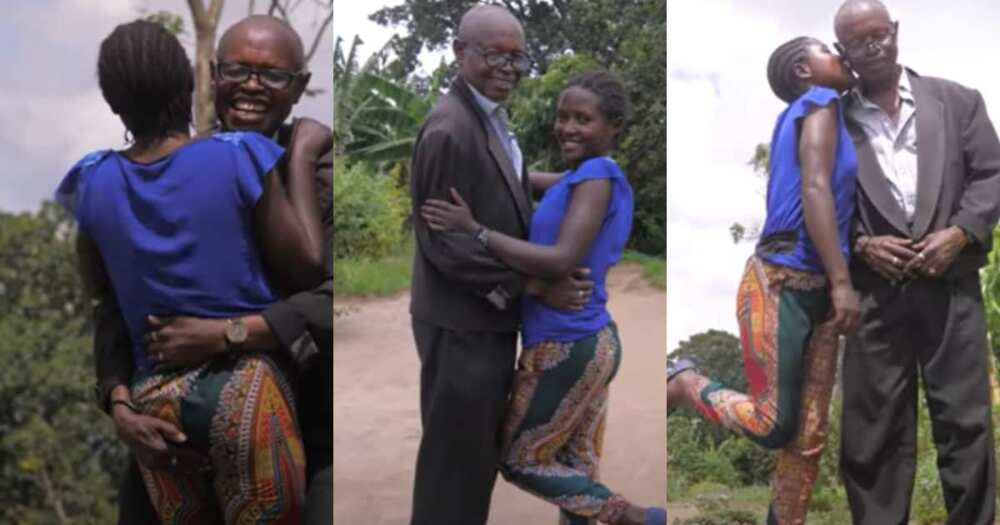 Whereas the woman is 22, her sweetheart, David, is 76, and he's clearly old enough to be her grandfather.
In its most recent video, YouTube channel AfriMax focused on the pair and their 'strange' relationship.
They met at church a few years ago and fell in love, according to the couple. They've been dating for four years.
It was revealed that David was a church intercessor who constantly prayed to God to bless him with a sweetheart, and one day Claudine appeared, and a voice from nowhere informed him, "Here is your right spouse.'
He'd never been married before, and he spent most of his time in church preaching the gospel.
"I fasted and prayed," he explained. The young girl shared her experience, saying that after meeting, she never expected them to fall in love because she always considered him as a father figure.
Claudine stated that they were chastised because of their age gap, but this did not diminish her emotions for him.
"People will say things, but nothing will change because I love him." "They'd say we don't match, but I told them a loving heart is enough," she explained.
She also discussed the role that certain friends had in getting her to split from her sweetheart, as well as the fact that she is not chasing the man's property. "I never fell in love with the intention of inheriting stuff,"
Claudine lavished affection on her better half, saying, "He makes me happy and always lifts me." No other man has ever done anything like this to me. "
The lady stated that her parents had no objections to her decision to marry David.
ABOUT AUTHOR
The public have an insatiable curiosity to know everything, except what is worth knowing so I write what's need to be written. An online critic and sports fanatic with a Degree in Telecommunications Engineering.