Three armed robbers were sentenced to a total of 135 years in jail by the Duayaw-Nkwanta circuit court for stealing four (4) cell phones worth GHC 320.
According to a source, the three assaulted and robbed four victims of their phones and money while on their way home from the market in Subrisu, a hamlet near Duayaw-Nkwanta.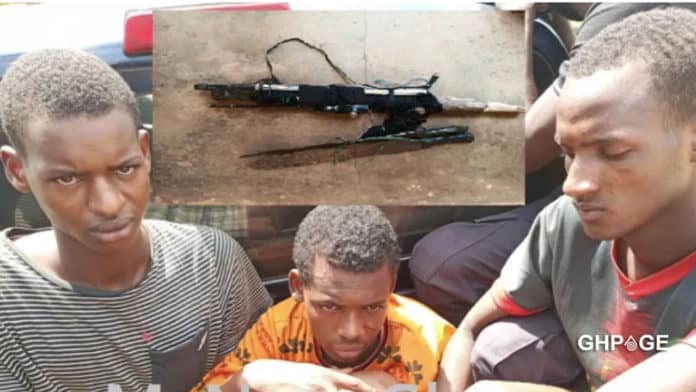 Ibrahim Musah, 23, Tahiru Mumen, 18, and Bella Jalo would each be sentenced to 45 years in jail.
It went on to say that the three, together with five others who are still at large, constructed a roadblock on the Adrobaa-Subrisu route where they carried out their activities, wearing masks and wielding pipes shaped like weapons.
The Prosecutor, Chief Inspector Mohammed Adnan, is shedding additional light on the case, revealing that when police learned of the operation, they hurried to the location, but the accused and others ran into a nearby bush when they saw the cops.
The police's attempts to capture them were fruitless, since all they were able to recover from the site were blue long sleeves and a ripped black and white shirt.
He went on to say that on July 3 of this year, they got information about their locations and proceeded to the house of the accused, where they collected a portion of the black and white shirt found at the crime site. They were then interrogated and admitted to the crime.
Later, the suspect took them to the jungle, where they were able to recover the four cellphones as well as their operating gear.
Chief Inspector Adnan revealed that measures are in the works to apprehend the remaining five conspirators.