NEWS
Young Lady cries out as she discovers that her serious boyfriend is married with kids
Love, the captivating and enchanting emotion that we all yearn for, has the power to open our hearts and lead us on a quest for happiness and companionship. But what happens when love turns out to be a deceptive force, shattering our dreams and leaving us broken-hearted? Meet Precious, a young lady who recently experienced a heartbreaking betrayal that she never saw coming – her serious boyfriend turned out to be a married man.
In a heartfelt Facebook post that took the internet by storm, Precious courageously revealed the painful truth that had been hidden from her. It was a devastating blow for her, as she had embraced their relationship with utmost sincerity and hope. The confession of her boyfriend's marital status cut deep, leaving her in a state of emotional turmoil.
What made this betrayal even more painful was the fact that her boyfriend had promised her a future together, without ever disclosing his existing marriage. Precious had eagerly embraced these promises, envisioning a life of love and togetherness. Little did she know that her dreams were built on a foundation of lies and deceit.
She wrote;
I want to ask something, why is it that some men are liars? Someone I have been dating for over two months now was saying that he wants to get married to me, and I said no prob. Then, yesterday he said, 'babe, I want to tell you something because I love you.' That's when he confessed that he is married.
I was so mad I don't know what to do again about this thing. Two guys have done the same thing to me. Am I not good enough to be loved? Please, someone should tell me what to do,"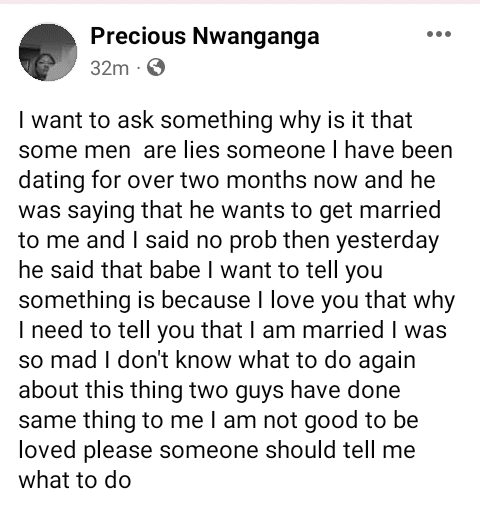 [ads2]