An old friend of fast-rising star Black Sherif who dates their friendship back in basic school has brought back memories of their good old days as the singer marks a new year in his life.
The young lady who goes by the name Dede Addo recalled she use to sit next to the young artist back in basic school, but today he performs alongside celebrities and dignitaries alike.
Dede Addo posted a throwback photo to honor Black Sherif's 20th birthday today, which speaks much about their humble beginnings and shows how far he's gone.
According to her, she feels delighted to see the rise Black Sherif has experienced as far as his music career is concerned.
Taking to Twitter, She wrote:
Time flies in a twinkleof an eye. Looking at this picture brought me memories way back in JHS when you were my bench mate. Now look at you, chasing your dreams,making money and living life. Nothing makes me more happy than seeing you on tv and listening to you on radio.
Wishing you long life, happiness,bigger deals and more cash. Happy birthday #blacko 20 will be exciting Soar higher and stay focused @blacksherif_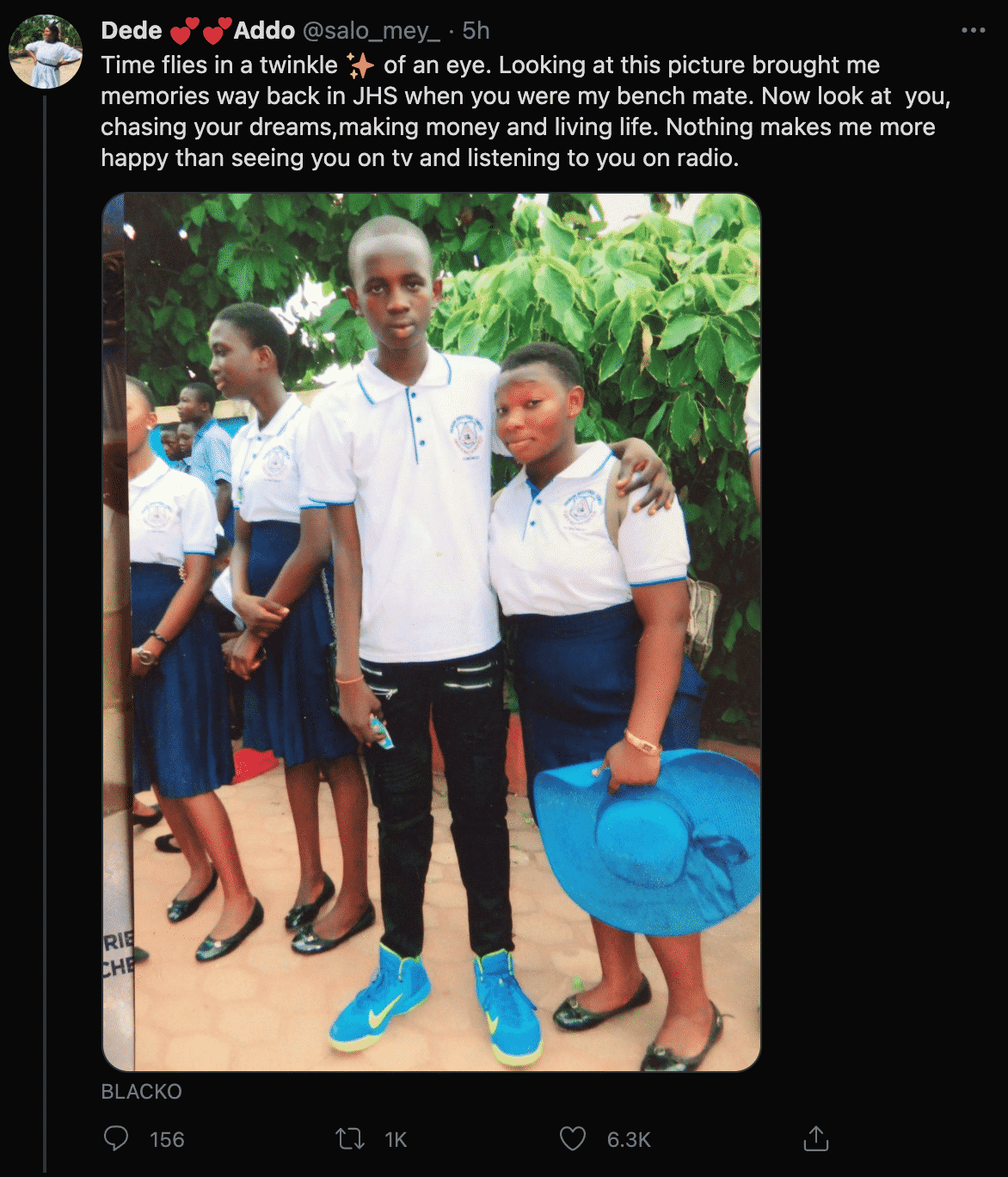 Meanwhile, netizens have questioned Dede Addo's motivation for sharing an old photo of Black Sherif – with many asking Would she had shared the photo if Black Sherif had not become popular?
A tweeter user with the handle @franswagga wrote: "We all have that mate who never go post we but we blow arh them go search archives and post us. May God bless us all to blow."
Also, @immortal_jones wrote: "Imagine if he wasn't popular, would you have posted him? Sm"
@MizDiva on the other hand had Dede's back as she wrote: "She has done well by keeping the receipt of their picture Some even delete pictures they have with you. She deserves applause rather than criticizing her"
ABOUT AUTHOR
Eugene Nyarko is an entertainment and showbiz pundit, writer and freelance blogger. He is passionate about what he does and has help increase the value of entertainment contents online. Eugene is also a Java programmer, you can contact him via Email- [email protected]