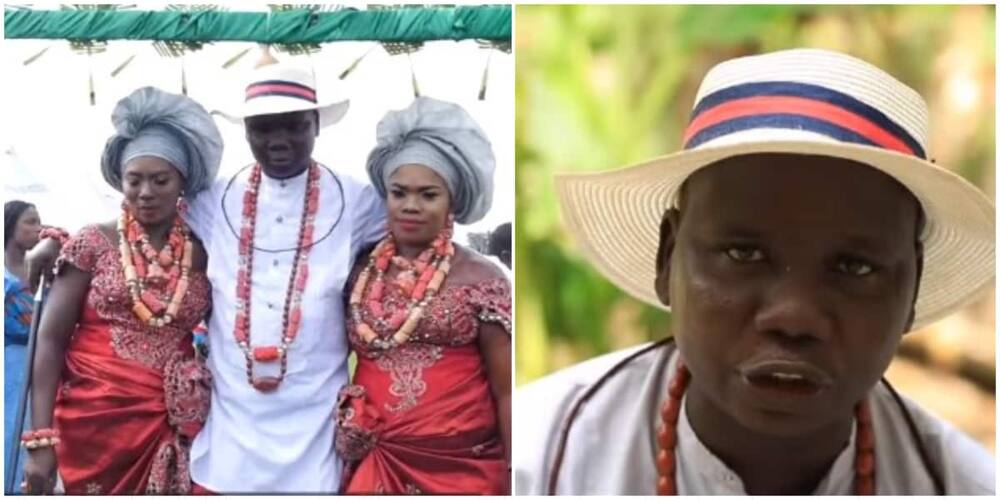 A newlywed polygamist named Prince Erere Nana has recommended men take more than one wife, which he believes would reduce infidelity.

The Nigerian guy from Delta's Orhokpokpor town became an online phenomenon after his viral wedding invitation revealed that he planned to marry two pregnant women at the same time.

Erere told BBC News Pidgin at the end of his traditional wedding to the women that he is the happiest guy in the world.

People who marry only one wife, in his opinion, are not married yet. Using an example to demonstrate the need for polygamy, the traditional doctor stated that if a guy is married to one wife and has relatives come while his wife is gone, it will be a difficulty for such a person.
Making a case for himself in such circumstances, Erere stated that as a traditional man, he could not cook for his kinsmen in the absence of his wife (assuming he married only one lady).
The ecstatic man said that he will most likely take a third wife, a revelation that both brides supported in separate interviews.
ABOUT AUTHOR
The public have an insatiable curiosity to know everything, except what is worth knowing so I write what's need to be written. An online critic and sports fanatic with a Degree in Telecommunications Engineering.