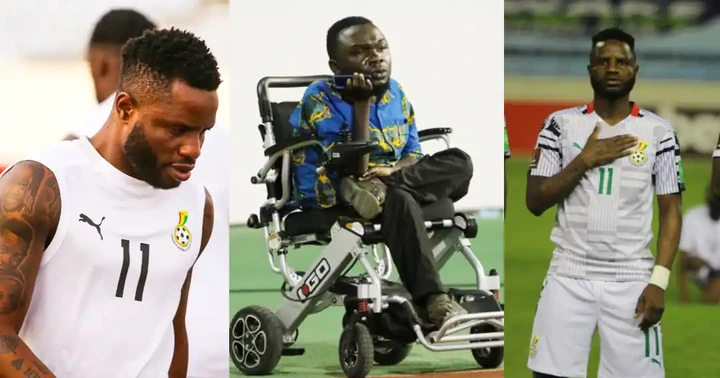 Johnson Antwi, a physically challenged journalist, and pundit was allowed into the inner perimeter for the first time to provide game commentary between Ghana and Ethiopia.
The journalist also arrived at the Cape Coast stadium in a new electric wheelchair presented by Mubarak Wakaso, the match-winner against Ethiopia for the Black Stars.
Johnson Antwi is seen conducting his work in great comfort in a snapshot uploaded on Twitter by 442's Frank Darkwa.
Johnson Antwi's tale went viral after Kelvin Owusu Ansah, a Tv3 sports journalist, captured his challenges in doing what he loves during a game between Hearts and Kotoko in June.
Mubarak Wakaso was moved by the story and gave the journalist an electric wheelchair as well as some cash.
"I'd like to express my gratitude to Media General for airing my story. It has had a significant impact on my life since then. I also want to express my gratitude to Mubarak Wakasu. Johnson Antwi told TV3 during the presentation that he doffs his hat to him and that God bless him in whatever he does.
Meanwhile, his guardian angel, Moubarak Wakaso, scored Ghana's only goal in a difficult game against the Ethiopian Walia Ibex last Friday.
On Saturday, the team flew to Johannesburg for the group's top game versus South Africa.
Wakaso has been praised for his thoughtful gesture toward Johnson Antwi.
"Mubarak Wakaso, a Ghanaian footballer, gave Johnson Antwi, a sportswriter, an electric wheelchair. Wakaso did not want this made public because of Islamic etiquette surrounding nice deeds. However, it has been disseminated through the media. Wakaso, may God bless you "Tophic, a sports journalist, wrote about it.

"As always, God bless you. "LTF TV penned the piece.
During the Super Two match between Hearts and Kotoko in June, Tv3 brought the story of Johnson Antwi, a crippled commentator, to light.
Tv3 executives gave the gifts and cash from Mubarak Wakaso to Johnson Antwi in images released on Twitter by the station.