Priscilla Nyarko is a 19-year-old SHS leaver and she has made her family, school, and community proud by excelling in the West African Senior Schools Certificate Examination (WASSCE) with a grade of 10.
The young and ambitious lady, who is presently selling kenkey to help her family financially, received an A1 in Social Studies, Core Mathematics, and Management in Living.
Priscilla .attended Nyankumasi Ahenkro Senior High School in Assin South, Central Region, which is located near her hometown of Assin Adubiase.
Because Priscilla Nyarko's mother and father work selling kenkey, they would want extra support to help their daughter get a college education because it's beyond their financial means.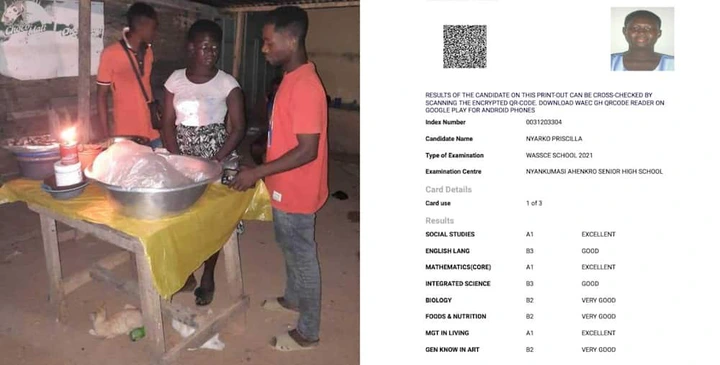 It's Priscilla's greatest desire to further into the Kwame Nkrumah University of Science and Technology to pursue Nursing.
Her grades are amazing since she had few resources and facilities yet managed to achieve such a high level of achievement in the examination.
Meanwhile, if Priscilla is unable to obtain the necessary support, she will be forced to continue selling kenkey for an extended period of time.
Maame Pepraah Krow, the accountant for an NGO which helped the girl through JHS and SHS can be reached via 0542488781 (+233) if you wish to help.
ABOUT AUTHOR
Eugene Nyarko is an entertainment and showbiz pundit, writer and freelance blogger. He is passionate about what he does and has help increase the value of entertainment contents online. Eugene is also a Java programmer, you can contact him via Email- [email protected]