A Nigeria man identified as Benjamin Amos cries out on social media following his fiance calling of their wedding after six years of keeping her waiting.
The man took to Facebook in sharing this sad but ridiculous story of his by saying she returned the ring after being engaged for "Ordinary six years". He added that there was still an additional 4 years for the girl to wait before there wedding.
How on earth will a lady be waiting 10 years after engagement before she is wedded?
check out the man's post below: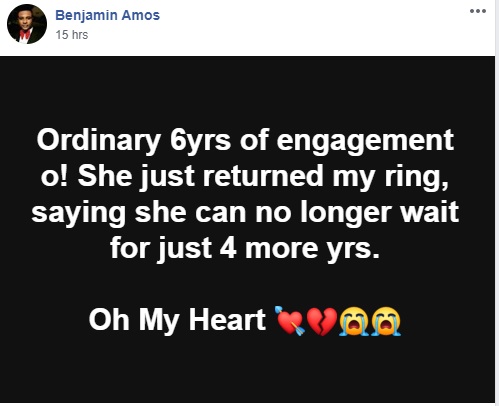 Following this post made by the man, some Nigerian social media users couldn't just forgo and decided to reply.
Most replied by calling him wicked for intending to keep her waiting for so long. others also say if the girl loved her she would have stayed for the 4 additional years.
check out some of the comments and reply below: