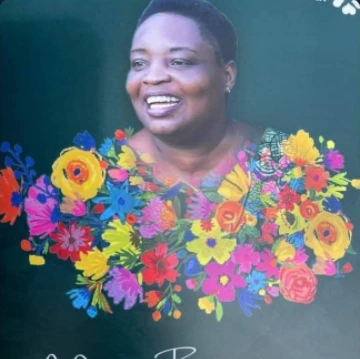 The sad biography of a woman who suffered a series of misfortunes after a 'kind' act towards a relative backfired was detailed in the program booklet for her obituary, which was read aloud during the service.
Barbara, a woman who had been suffering from a disease for years, was laid to rest on Friday, September 10.
Barbara was a married mother of two children who lived in the United States. She also had fantastic work as an accountant in a financial services company in the United States.
Her ordeal began, however, following the birth of her second kid, which was a year later.
Her parents in Ghana made the decision to look for someone to assist her in the care of her children, and Barbara's mother's cousin, Margaret Ama Owusuwaa, overheard the talk and "volunteered" to assist her in the process.
Several Twitter users have shared the story, including Axel, who shared it on his account. Barbara's mother, who was a serving Minister in Ghana and a member of a political party in the country, was initially reluctant, but eventually agreed for her cousin to travel to the United States on a six-month visa to assist her daughter.
As Ama arrived in the United States, she resided with Barbara. However, when her visa was about to expire and her return to Ghana was looming, she allegedly fled to US immigration and "lied" that Barbara had conspired with her mother to have her sent to the United States as a slave to serve Barbara.
Following this, Barbara was involved in several court cases, which resulted in her serving five years in prison and being deported to Ghana after five years and a few months in prison.
During her prison sentence, she suffered from a variety of diseases, including a brain tumor, which necessitated three open-heart surgeries.
She passed away in Ghana in the end. Prior to her death, the ordeal resulted in the deaths of her mother and her husband, who were both killed.
With regard to Ama, she was granted resident status in the United States after she informed US officials that her husband and children were at risk of being persecuted in Ghana since Barbara's mother was a Minister in the country. The United States dispatched officials to Ghana to retrieve her husband and children, who were then awarded political refuge in the United States.
Axel claims that Ama's story did not end well because she and her husband are now both blind, and she suffered a stroke in the United States that has left her paralyzed.
Take a look at the story below.