For some celebrities, age is only a number, whereas maturity has become the standard in their relationships. More Ghanaian women are openly dating or marrying their young partners, unconcerned about what others might think of them. It is necessary for one to embrace love wherever he or she feels at ease and content.
When you fall in love with someone you can easily get along with, regardless of your status, age, or personality, you will be satisfied in your relationship.
Let us have a look at some of our own male Ghanaian superstars who have dated or married ladies who are older than them. These are celebrity couples that have defied all obstacles to stay together or, better yet, to be in a relationship.
The rapper Medikal is first on the list. Medikal had a wonderful friendship with Sister Deborah, who was his senior. During their dating era, the two had a great time. Deborah Vanessa was reported to be much older than her AMG rapper boyfriend, Medikal. Their age gap has long been a source of contention. The rapper never mentioned the age gap, but Sister Derby, who always looks young, claimed that she was eight years older than her then-boyfriend.
Deborah was born on August 25, 1984, making her 36 years old. Medikal is 28 years old, having been born on April 5, 1992. Sister Derby, Medikal's former lover, is 8 years his junior.
Medikal has settled down with Fella Makafui, therefore the two are no longer together.
Captain Planet comes in second. He is the leader of the 4X4 music group. Jeff Sylvanus Dodji, aka Captain Planet, married his stunning Nigerian bride, Uche Ofodile, in a low-key wedding in Accra.
Uche Ufodile was the previous Chief Marketing Officer of Vodafone Ghana, as well as a top business executive with experience in growing firms in emerging countries. She has been the driving force for revolutionary transformation at build-chip international firms for over 10 years in CEO and CCO roles. The artist has stated on multiple occasions that his wife is older than him and that he is unconcerned. His wife presently serves as the CEO of MTN Liberia.
Mzbel's ex-boyfriend, Maxwell Mensah, married a lady who was older than him. Nana Ama Mcbrown married Maxwell Mensah in 2016. Maxwell Mensah was born on August 3, 1983, while the actress was born on August 15, 1973, making her 47 years old. Maxwell is currently 37 years old. Maxwell is now 10 years younger than his wife, Nana Ama, based on the disparity between the two.
They are deeply in love, and their ages are just numbers to them. They are presently enjoying a milestone in their marriage by welcoming a kid after years of trying to conceive.
Adjoa Vicker is married to Van Vicker. They began dating at Senior High School, while Van was a student at Mfantsipim School and Adjoa was a student at Aggrey Memorial Senior High School, both in Cape Coast, Ghana's Central Region.
They have been married for nearly 15 years and are still going strong. Van Vicker is 43 years old, having been born on August 1, 1977. Adjoa Vicker, his wife, was born on January 24, 1977, making her 43 years old. Adjoa is seven months older than Van Vicker, thus the difference here is a month.
His wife, John Agyekum Kufuor, is likewise older than him. On December 8, 1938, he was born. On October 25, 1937, Theresa Kufuor was born. This means the previous first lady is a year older than the state's previous president. In 1962, the two married.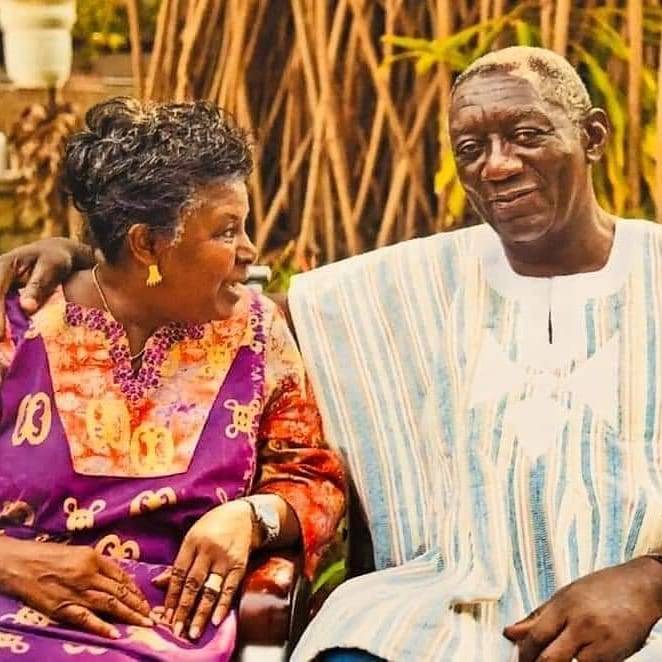 People have also claimed that Beverly Afaglo is older than Choirmaster, however the artist has refuted this claim and said that he is older than his wife on multiple occasions.
Others have dated ladies who are older than them. Elikem Kumordzie, a Ghanaian famous tailor, and his Sugar Mummy Queen Dee, for example. The tailor has admitted to dating several other Sugar mamas.
According to claims in the media, Kidi's Baby mama is likewise older than the singer.
Men dating older ladies is typical among superstars, since older admirers who adore them are willing to give in. Actor Prince David Osei has cautioned anyone involved in the conduct to stop since it has spiritual ramifications.