A statement from Nana Aba Anamoah, General Manager of GHOne TV and Starr 103.5 FM, has been issued in response to the news that repentant cyberbully, Bongo Ideas, has been offered a position at GHOne TV.
On Instagram, Nana Aba, in response to earlier reports that Bongo Ideas had secured a new job at GHOne TV, has denied the allegations.
According to her, Journalist Albert has not been hired by the Excellence in Broadcasting (EIB), which is in direct conflict with previous reports.
Nana Aba confirmed in her post that Bongo Ideas will be participating in the anti-cyberbullying campaign that her organization (EIB) is spearheading.
The articulate Media Personality wrote in an email that she was excited to share this new information.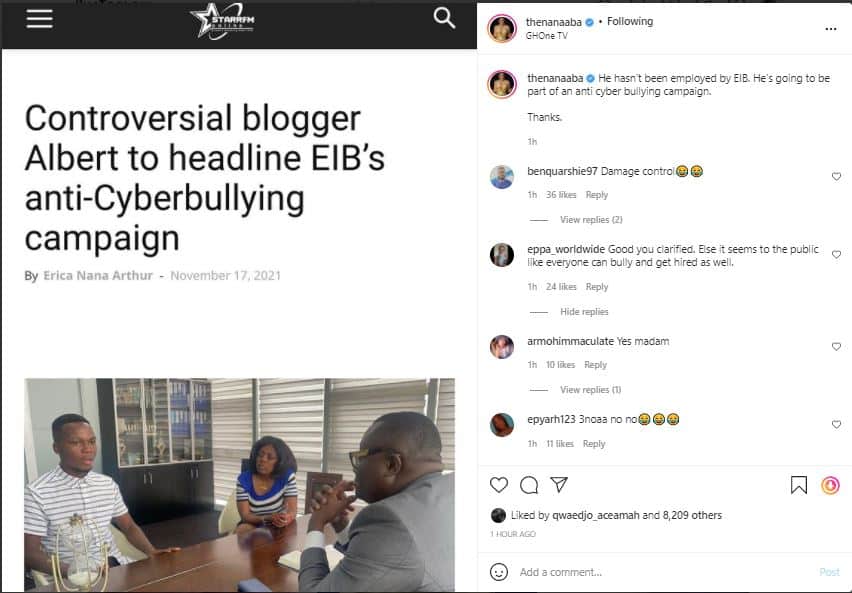 ABOUT AUTHOR
Popularly known as the webmazta; Cobby Collins is an established web designer, a computer instructor, and content creator.
You can contact him via email [email protected] or via Whatsapp only on +233204875306