"No one can serve two masters," the Bible says, "for either, he will hate one and love the other, or he will hold to one and despise the other."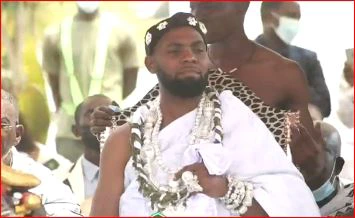 Reverend Obofour, also known as Prophet Asanteman Bofour, the Founder and Leader of Anointed Palace Chapel (APC), has been recorded in a video being enstooled as the chief.
The man of God is currently the Asantehene Mantse of James Town, Sempe. Reverend Obofour, in the video and photos that have gone viral, is dressed up as a Ga Chief.
His facial expression reveals that he is quite glad and proud of the status that has been bestowed upon him in Accra.
As a chief, customs might force the chief to sacrifice a lamb or sheep to the gods, which is against Christian theology. The practice of pouring libations on the gods is also contrary to Christian teaching, which is why most people wonder why Reverend Obofour agreed to be enstooled as a chief…
While some Ghanaians say Obofour has missed his way as a Christian, others also cheered him up.
below are the photos and video;