On Thursday 12 November, Ghanaians did not receive good news as a great pillar of the country fell. The former president JJ rawlings died and the country is still in a state of mourn.
He died at the Korle Bu Teaching Hospital in Accra after getting covid 19, according to reports. His sad demise followed months after celebrating his 73 birthday and weeks after he buried his mom.
He was the founder of the National Democratic Congress (NDC) and first president of the Fourth Republic ruled the country from 1981 to 2001.
Before his death, he was a husband and father of four children. He was married to Nana Konadu Agyeman since 1977 and they were been blessed with three girls named Zanetor, Yaa Asantewaa, Amina, and a boy, Kimathi Rawlings.
Below is a compilation of photos and other details of all-four children of the late former president.
1. Dr Zanetor Rawlings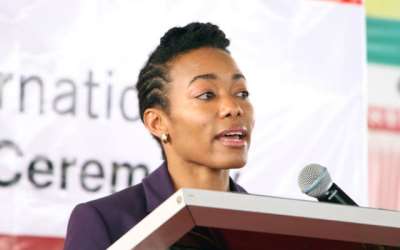 Dr. Zanetor Rawlings is the first child of former president Jerry John Rawlings and Nana Konadu Agyeman. Zanetor was born on 1 June 1978 in Accra,
She is the Member of Parliament for Klottey-Korley Constituency of the Greater Accra Region. She has participated in various foundations and initiatives championing women's and children's rights and improving sanitation in Ghana.
She is currently married and has three children.
2. Yaa Asantewaa
Yaa Asantewaa Rawlings is the second daughter of the former head of state and president of Ghana. She had her early education at Achimota and later at Trinity College. She earned her first degree from the University of Dublin in Ireland and a master's at Boston University.
She currently works at the office of her father as a Business Affairs Executive
3. Amina Rawlings
Amina Rawlings just follows after Yaa Asantewaa is a lawyer who specializes in Public International Law, Commercial Law, Energy, and Natural Resources.
She is also a member of the International Bar Association, Chartered Institute of Arbitrators, AIPN, UK Energy Lawyers Group, LCLCBA, and Scottish Oil Club.
4. Kimathi
Kimathi is the first son and last child of J.J. Rawlings and Nana Konadu. He received his basic education at North Ridge Lyceum and Morning Star Schools.
Kimathi earned his Bachelor of Science (Bsc) in International Business from Aston University in Birmingham, England.