Prince David Osei, a Ghallywood 'bad boy' actor, has advised young people to settle down early. Implementing such a goal, he says, is enjoyable.
He captioned a throwback photo of him and his wife christening their child. " I didn't have a beard or a goatee back then, but when you married young, life gets enjoyable… You can't imagine a future, can you? We married for our future, not our past!!
Prince David Osei is pleased with his early marriage. Probably he loves his wife. He joins Yul Edochie to preach that marriage is not a swindle when done properly. In this period, most young people fear marriage.
Most men have stayed away due to concerns about money and trust. On your timeline, simply ask "why are you still single?" to see what happens.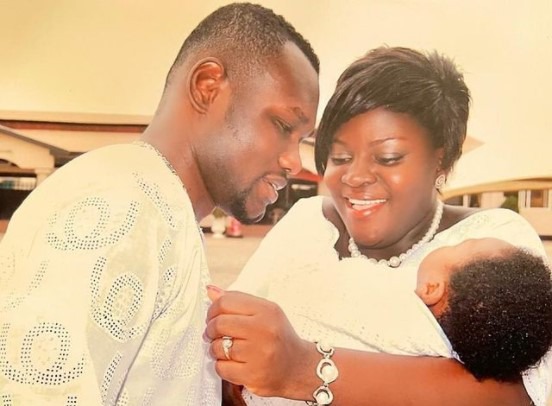 Women today prefer a refined wedding ceremony, some say. Except for Efia Odo. This is a one-time event and hence must be stylish or extravagant.
A similar situation triggered a banker's near-death experience. He was fortunate enough to obtain a large loan to offer her lover the wedding she desired at the Movenpick Hotel in Accra. In defaulting on the loan, he faced a certain death dilemma.
Most guys think today's women adore money. So they're unstable. Women are fickle and leave once the money departs.
Also, celebrities have a hard time settling down and enjoying their relationships forever. David Osei, like many others, has kept their married life private. Maybe that's been his magic all along.
In his words, young men should locate marriages despite all obstacles. They need to have enjoyment in their later years. You can't afford to play certain roles when you're old. You must grow up with your kids.
Louisa Nana Ama Asieduaa Korankye, 37, is his wife. They have three kids.