Blessing Okoro, also known as Blessing CEO, a Nigerian relationship expert, has turned to social media to address masturbation.
She stated that Satan is not the source of masturbation, but rather human hormones that compel individuals to masturbate anytime they desire it.
The marriage counselor, who revealed this on her official Instagram page, added that the devil is never the one who instructs people to masturbate, but rather the hormones within their bodies, adding that they may regulate masturbation but cannot stop it.
Masturbation, according to Blessing CEO, is a normal aspect of people's sexual hormonal life, and it is never caused by the devil.
Finally, the mother of two warned Nigerians to quit thinking that masturbation is caused by the devil.
Below is Blessing CEO's post;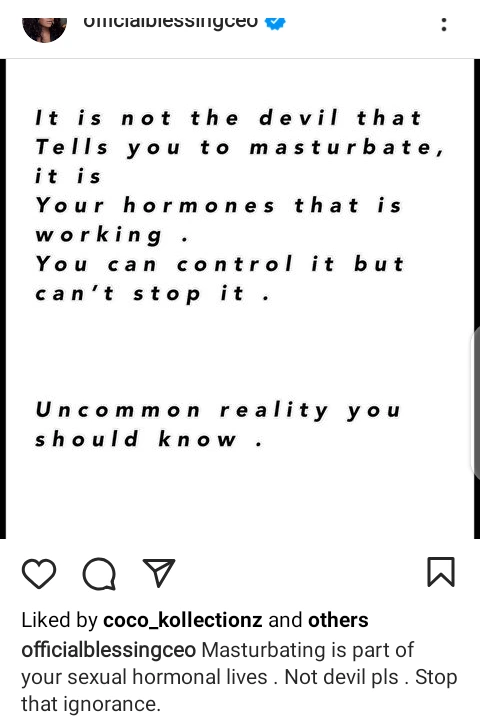 Effah Gideon is publicly known as Anisco Army, he is a content creator and very passionate about what he does. Effah is also a Graphic Designer and has done a variety of graphic works for numerous clients. Email Effah at [email protected]
Social links to Effah's profile can be found by clicking on the social icons below.
You can also Contact anyone associated with bestshowbiz or the site admin through the website's contact page located on the header of the website.