Afia Pokuaa, commonly known as Vim Lady, a Ghanaian television celebrity, has declared that the God Christians serve does not work only on December 31st, and that people should learn to praise him (God) every day.
Some people, as is customary, only attend church services on December 31st. Those folks are only seen at church on December 31st and will not be seen again until the next December 31st service.
In response to such conduct, Vim Lady stated that the God that Christians worship does not work simply on December 31st, Christmas Day, or Yew Year.
She stated that individuals should learn to always praise God and change the way they worship God since 1000 years is a day to God.
According to Afia Pokuaa,
"We serve a God who doesn't operate ONLY on 31st night, Christmas day or Yew Year. Learn to thank GOD everyday na gyae NHWENHWENIM nyamesom no na 1000years is a day to GOD. May God have mercy on us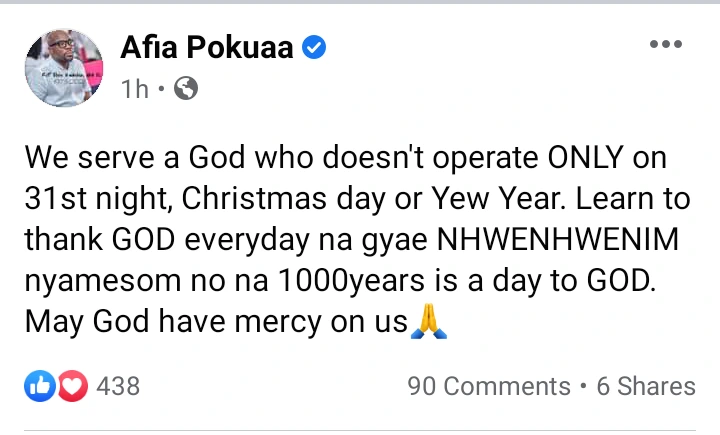 ABOUT AUTHOR
The public have an insatiable curiosity to know everything, except what is worth knowing so I write what's need to be written. An online critic and sports fanatic with a Degree in Telecommunications Engineering.