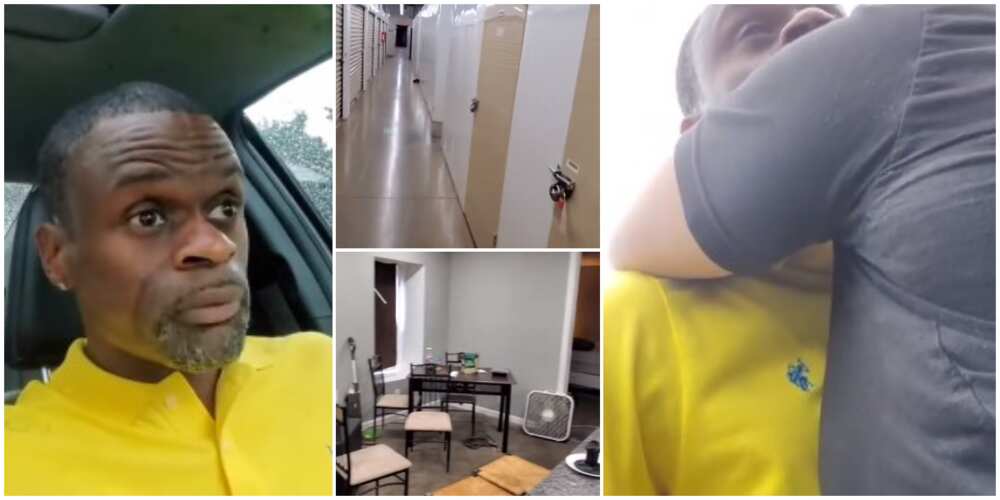 A landlord raised controversy on social media after he shocked one of his tenants with a surprise visit. It has been reported that the tenant, a lady, has been living in the man's apartment for two years but has been unable to pay the rent.
According to a video posted on Facebook by BI Phakathi, the landlord stated that the lady had failed to renew her rent, most likely owing to financial difficulties and that she would be evicted from the property.
The anonymous house owner arrived at the lady's residence and assisted her in packing her belongings.
He then proceeded to place her in a hotel room for three weeks, until the time came when she was able to stand on her own two feet again. In the video, he can be heard encouraging her and saying nice things to her. After being surprised, the woman was overcome with emotion and sobbed as she held the man. It is believed that the man's gesture of evicting her from the residence was intended to make the place available for rent to others.
This has raise a lot of praise when the video was shared on social Media
Some comments are below:
"May God bless man of golden hearts like you.In this cruel and heartless world, many aren't concerned about how others are struggling pulling the wagons of life.What matters to them is their wants satisfied on the expense of others' needs."
Roberta J Harper said:
"I pay my rent every month for 6 yrs and have now gone through 4 landlords but this last one raised the rent 50 dollars and soon another 150. Doing so will make me and my partner homeless. Living on disability su*cks I rather work but can't due to I barely get around as is. God bless this man.l
Morris Gordils wrote:
"I think he should have not move her out an let the city help instead of him doing that even do she not paying rent at the moment u had a good tent the next one mite not be that good you should have just lowered her rent."l
Sha HighlyBlessed Christopher reacted:
"No my at people are using this pandemic as a excuse Not to pay rent… these landlords have to pay mortgage on properties as well… smh if you're able pay your bills… 2 years come on."