Shatta Bandle can be seen in a video enjoying the nightlife in the United Arab Emirates.
Shatta Bandle is shown riding on a camel in a new film of his exploits in Dubai, which was released this week.
He was previously seen riding a quad bike and demonstrating his abilities in an earlier video.
Idris Firdaus, also known as Shatta Bandle, has received a lot of backlash on social media when he was shown in a video riding on the back of a camel in Dubai while on vacation.
After dinner, Shatta Bandle and a group of friends were given camel rides as part of their explorations in the area.
However, it was an event that Shatta Bandle wished to have over as soon as possible because he had not anticipated it to be frightening.
Instead of basking in the glow of this once-in-a-lifetime opportunity, Shatta Bandle was overtaken by terror and screamed his head off.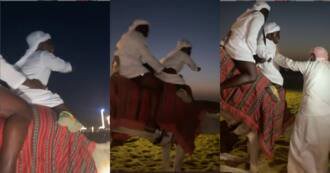 The small online sensation was overheard requesting that the camel ride be stopped and that he be removed from the back of the animal's back.
He was seen and heard saying, "I won't get down," which translates as "I want to get down," and he was seen and heard holding on hard to a man who was sitting behind him.
It came to a point where Shatta Bandle's screaming became so deafening and annoying that the ride operators were powerless to stop him from getting off.