Isaac Amoako is a Kumawood actor that is quite popular. He gained recognition for playing prophet roles in movies. He told Kwaku Manu about his personal struggles in a recent interview.
He stated that his mother had died and that they would be burying her today. I lived in America for 9 years and planned to return in December but my mother's burial forced me to arrive early.

He went on about how he got into movies. Daniel Adele introduced me to the film and I got cast as a bodyguard. Friends used to tease me because I stood there silently for three years.
As a bodyguard in movies, I learned a lot from the actors, especially how they talk, which gave me strength. As a result of my passion for the job, I was cast as a pastor and became a prominent actor.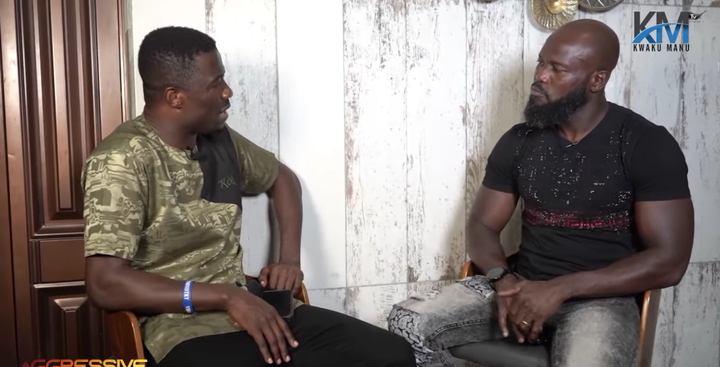 My tongues made me popular like my acting was unusual. As an actor, you won't be paid until you become a star.
When I went abroad to pursue my acting profession, everything changed.
I tried to do my papers in Germany, but there were several issues, so I lost a lot of money. I went to America to work and earn money. When people see you doing the same work they will be surprised and ask you questions since they know you are a star.
As a celebrity, they believe you don't need help and don't deserve the same job as them. Because God is so good, I met an American woman who became my girl. She told me to start over, forget I'm a celebrity and focus on the future.

Her advice inspired me to strive hard to attain my ambitions. We intended to marry after she said she would assist me get my paperwork. He said God bless my wife, Michelle Owusu, for everything she did for him. Because the information in Ghana differed from what I had in the US, they accused me of lying and confiscated my working papers.
When I applied for my first visa in Ghana, a man named Steven changed a lot of my details without telling me, causing me a lot of complications.

My wife Michelle was in labor at the time and was in the hospital. Then they summoned me in for an interview. They said I was lying since the facts I supplied them about myself were different.
Then they called my wife and told her I was married to another woman in Ghana, which my wife was unaware of. But I told my wife I got married in Ghana and divorced. But Steven, who filled out my details in Ghana, made it appear that I am married with children there.
They told us to go home because of the issues.
They sometimes issued me a letter instructing me to leave America in a month. This revelation caused me insomnia and my wife a lot of stress.
It was difficult for me because I was thinking about my wife and my new baby. But with God, anything is possible, so my wife contacted a lawyer, and we told him everything.
After hearing my case, he helped us understand our faults and helped me resolve the matter so I could get my papers. Thanks to this lawyer, I was able to marry my wife and have lovely children.