Yesterday we reported about the 90-year-old mother who was accused of being a witch and beaten up till she passed away.
well, the son of the 90-year-old mother Mariama Akua Denteh has opened up on what actually happened and how his mother passed away.
speaking in an interview on Citi FM, Dominic the son of the 90-year-old mother disclosed that his mother was beaten three consecutive days with the holiest book of the Islamic faith—the Quran—in the name of exorcism.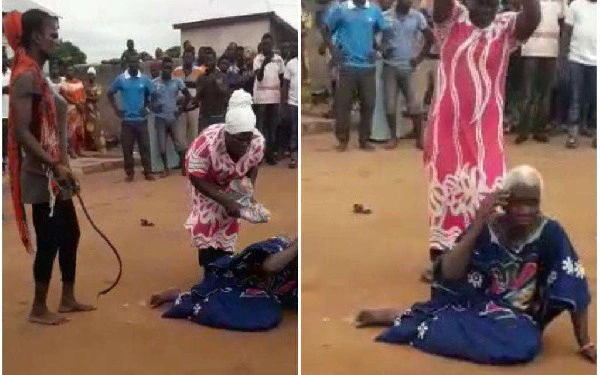 Dominic revealed;
"It was on Tuesday night at 2 am that the native woman [soothsayer] came and was exorcising witchcraft from people. Members of the community-led her to break into her [mother's] room and said she is a witch.
"She insisted she was not a witch. She has grandchildren and great-grandchildren. They searched inside the room and brought all her belongings out, but they couldn't get anything. They used the holy Quran on her forehead so she will confess to being a witch. They applied to anoint oil on her nose and mouth.  Nothing happened to her and they left,".
"My elder brother complained about what happened to our mother that Tuesday night.  The chief said our mother had been vindicated.
"So far as they used the anointing oil and the holy Quran on my mom and searched her room but there was nothing to show that she is a witch. He even urged that we should go and put on white apparel and celebrate her," the chief said.
He further disclosed that;
"The people came back that my mother is still a witch. They entered her room, searched everywhere. They hit her the holy Quran on her forehead for four consecutive times, oiled her nose and her mouth but there was nothing to show that my mom is a witch.
"They gave her three lashes and went back,"
On Thursday, the soothsayer came again.
"They picked her up around 9 am to the village square which was very close to the chief's palace. They beat my mother mercilessly. You wouldn't believe that she had lived in the community for so many years,"
according to Dominic, his stepbrother's sister-in-law was the young lady whipping the 90-year old in the viral video that caused a public uproar.
he disclosed that he rushed to the village and met his mother unconscious but was alive.
Her last words were '"my son, are you back? How are you? Your people came to pick me up again and beat me.  I need water to drink.'''
"They brought her water. When my mother took the water and a drop entered her mouth, that was the end of my mom.
"One of our relatives came to raise her hand but it fell without any strength in it. My elder brother can't tell when a person is dead.  They went and called one of my aunties. My mother's age mate, she confirmed that my mom has kicked the bucket."
"He told them not to touch my mom. They should just use a cloth to cover her. My brother took off from Kafaba and came to Salaga and reported it to the Chief who also informed the local police commander. The police dispatched a team to Kafaba.
The body was then sent to the Tamale Teaching Hospital for autopsy.
he added;
"When we all gathered as a family, we went to see the chief and told him that the woman we came to complain about had been beaten to death. It took the chief 15 minutes, he couldn't utter any word.
They only thing the chief said was that 'that is the will of God'.
the incident happened in Kafaba somewhere in the Northern region.
ABOUT AUTHOR
Narnarh Berry have been creating content for blogs which includes Buzzgh.com and bestshowbiz.com, contact Narnarh via email
You can also Contact anyone associated with bestshowbiz, through the website's contact page located on the header of the website.