Afia Pokuaa, a popular journalist, has hilariously warned her colleague Kofi Adoma Nwanwanii not to chase girls as they begin their duty at Kwahu. Nana Yaa Brefo, herself (Afia Pokuaa), and Kofi Adoma Nwanwanii's wife, according to her, are keeping a close eye on him.
"Kofi don't go chasing girls over there. My drone is constantly monitoring you. We are keeping a close eye on you "Afia Pokuaa hilariously warned Kofi Adoma Nwanwanii directly beneath Kofi's Facebook post.
Meanwhile, Kofi Adoma Nwanwanii responded to Afia Pokuaa with the amusing statement that he had stopped the act a long time ago.
"I stopped chasing girls last year, Afia Pokuaa. No chasing in 2022. I'm exhausted." Kofi Adoma Nwanwanii spoke up.
That wasn't a serious matter, to be sure. The warning and response demonstrated the two media gurus' friendship.
Check out the post below, which was shared on Facebook.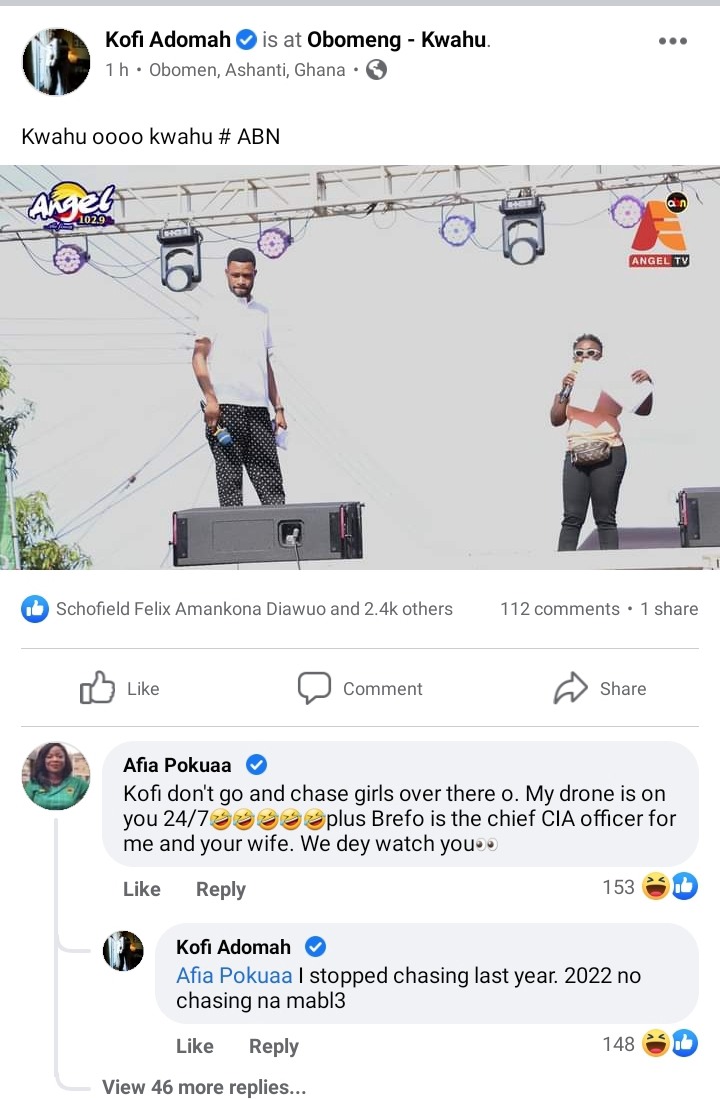 Effah Gideon is publicly known as Anisco Army, he is a content creator and very passionate about what he does. Effah is also a Graphic Designer and has done a variety of graphic works for numerous clients. Email Effah at [email protected]
Social links to Effah's profile can be found by clicking on the social icons below.
You can also Contact anyone associated with bestshowbiz or the site admin through the website's contact page located on the header of the website.