Many Ghanaians have been anticipating the results of students from Keta Senior High Technical School (KETASCO), who advanced to the finals of the recently concluded National Science and Maths Quiz (NSMQ).
The West African Examination Council (WAEC) issued the preliminary results of applicants who took the 2021 WASSCE on December 8, 2021.
The outcome of one of the KETASCO NSMQ finalists is now available.
Senyo Gadzo, a bright student, completed the WASSCE with 8 As. He and Francisca Lamina, as well as James Lutterodt, reached the NSMQ finals but were defeated by Prempeh College.
Meanwhile, the KETASCO participants' mental strength and superior intellectual qualities were not overlooked. Francisca Lamina has gained national acclaim for becoming the first female to compete in the NSMQ finals.
When she was offered the opportunity to travel to Kenya and Dubai, Francisca Lamina campaigned for the inclusion of Bright Senyo Gadzo and James Lutterodt. Many people are still waiting to see Francisca Lamina's WASSCE results.
Check out his results below.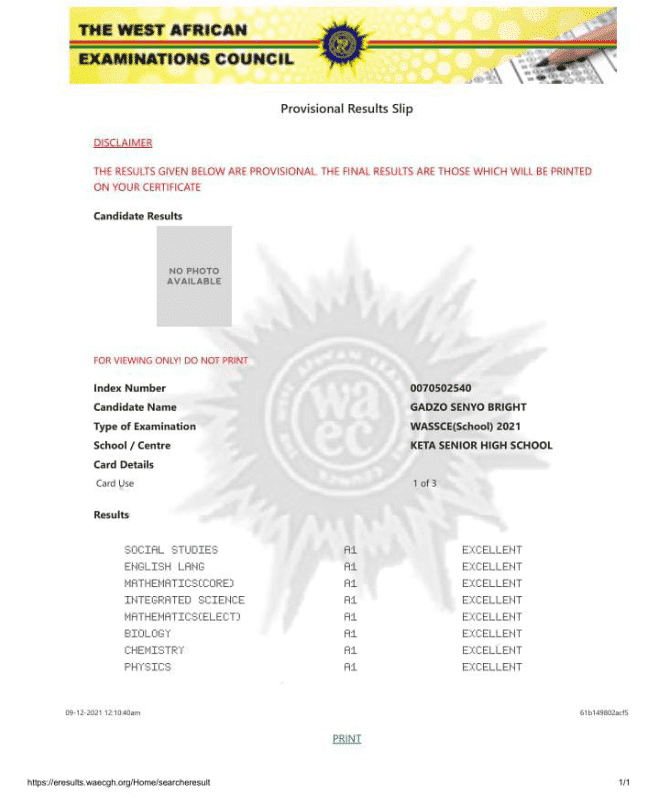 ABOUT AUTHOR
The public have an insatiable curiosity to know everything, except what is worth knowing so I write what's need to be written. An online critic and sports fanatic with a Degree in Telecommunications Engineering.