Francisca Lamini was presented with a monetary prize by Citi Fm's Chief Executive Officer Samuel Attah-Sammens for her performance in the recently ended National Science and Maths Quiz.
Thanks to Francisca and her two teammates, Keta Secondary Technical reached their first-ever final, becoming the first school from the Volta Region to do so in the quiz's history.
Despite her school finishing third in the finals, behind Presec and winners Prempeh College, Francisca Lamini captivated the hearts of many people, particularly women, both inside and beyond the country.
Despite not attending one of Ghana's premier schools, she was the best female contender in the 2021 National Science and Maths Quiz.
Since the competition, she has received appreciation on both social media and traditional media.
Mr. Samuel Attah Mensah, better known as Sammens, has promised Francisca Lamini GHS5,000.
He posted: "Somebody please find this young impressive lady for me. Citi TV is just blessing her with a sum of GHS5,000. Please retweet until she responds. Francisca you be too [email protected] #NSMQ2021"
See screenshot below: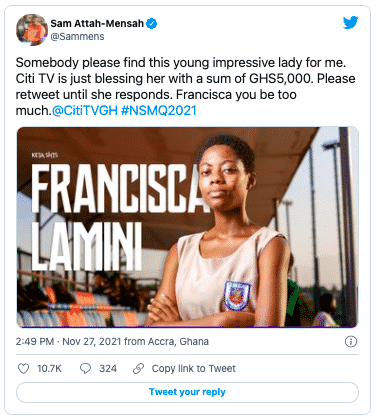 ABOUT AUTHOR
The public have an insatiable curiosity to know everything, except what is worth knowing so I write what's need to be written. An online critic and sports fanatic with a Degree in Telecommunications Engineering.