A man is accused of removing his girlfriend's teeth after she allegedly destroyed his properties after he cheated on her with another woman.
The lady found her partner cheating on her only three weeks after they started dating, according to Twitter user @Aqualady6666.
She stormed her unfaithful boyfriend's house and smashed all of his belongings, including his Plasma TV and other home appliances, in a fit of rage.
In retribution for what she did to him, her boyfriend is said to have used a plier to remove two of her teeth.
@Aqualady6666 wrote: "This lady caught her 3 weeks old boyfriend cheating, then went to his house and destroy all his properties and man used plier to remove her teeth."
see reactions below.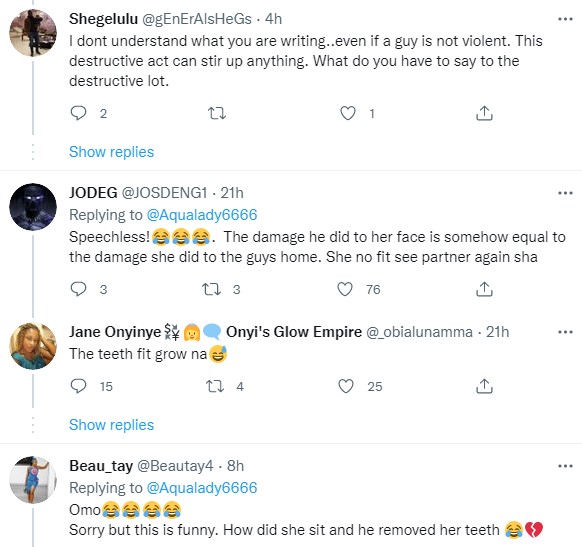 ABOUT AUTHOR
Adinkrah Cyril is an established web designer, computer instructor, and content creator. He creates blog content for bestshowbiz.com as well as it's associate strings of websites.
As a content creator, Adinkrah is good at his work and his engaging contents have earned him a nomination as one of the best bloggers in the country. Contact Adinkrah Via Email
You can also contact anyone associated with bestshowbiz,  through the website's contact page located on the header of the website.