Afia Schwarzenegger, a radio and television personality, has threatened to expose the evil acts of Allotey Jacobs, the former Central Regional Chairman of the National Democratic Congress (NDC).
Allotey Jacobs was accused of sleeping with small girls' in the country by her.
Allotey Jacobs incurred the wrath of Afia Schwarzenegger after he objected to the latter's claims that the Chief of Staff, Akosua Frema Osei-Opare, was involved in the preparation of her late father's final rites.
Afia laid her father to rest in a star-studded ceremony last weekend.
She thanked those who helped her with the funeral and thanked Ghana's Chief of Staff, Akosua Frema Osei-Opare, for a GH50,000 cash gift.
"The money went into importing a coffin for my father's burial," she explained.
A good mother who takes care of her children. What would I have done if it hadn't been for you? I'm not sure how my father's coffin would have arrived in the country if it hadn't been for you."
"I'm on my knees, and I want to thank you," she continued. Thank you very much, Mother. God bless… You gave me GH50,000 cedis and asked me to notify you of any additional costs…which additional costs after the large sum you gave me? People told me that God would reward me for properly burying my father. I divide such blessings in half and give you half."
Afia Schwarzenegger, on the other hand, did not take Allotey Jacobs' remark lightly.
She gave him a 48-hour deadline to apologize to his wife or face the consequences of revealing the names she was about to reveal.
"I heard this man insulting me after squandering NDC money, so your opportunistic stomach drove you to NPP to beg," she said.
"I will give you 48 hours to complete the task. Alternatively, you should apologize to your wife…the young girls have given me the list."
"If you think you can bring your foolishness to me, you've got another thing koraaa…," she wrote on her Instagram page.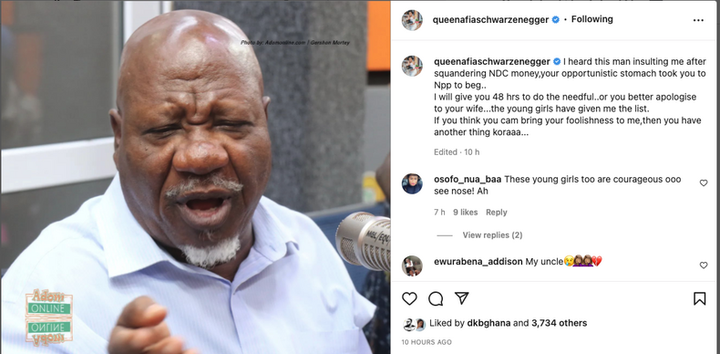 Effah Gideon is publicly known as Anisco Army, he is a content creator and very passionate about what he does. Effah is also a Graphic Designer and has done a variety of graphic works for numerous clients. Email Effah at [email protected]
Social links to Effah's profile can be found by clicking on the social icons below.
You can also Contact anyone associated with bestshowbiz or the site admin through the website's contact page located on the header of the website.