An abandoned baby boy was rescued at a garbage dumpsite in the Bia East District. The infant, who is just two weeks old, was spotted wrapped in a piece of luggage by a group of schoolchildren who were playing football just a few feet away.
A 'Ghana Must Go' bag was used to contain the infant. Not to mention that. A handkerchief was tied around his neck and in danger of suffocating. It was placed in a purse, which was then placed in a paper box and thrown into the "Ghana Must Go" bag.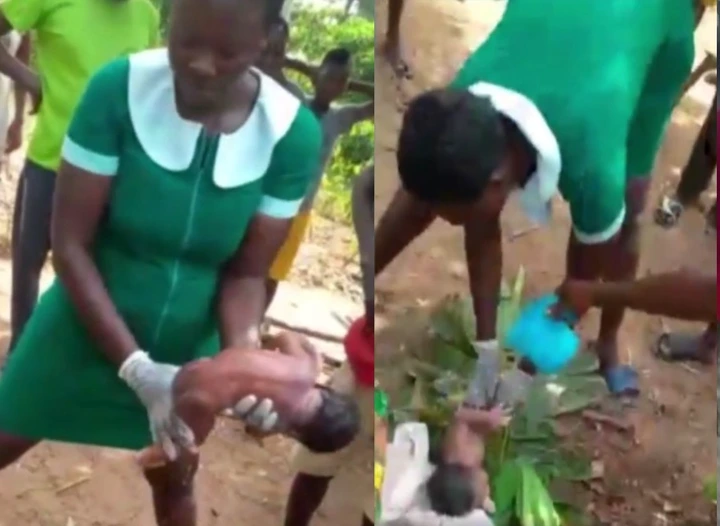 The youngsters rushed to the nearest clinic and summoned a nurse, who dropped everything to help. Having brought gloves, detergent, and plastic wrap with her, she grabbed the baby from the luggage and got him clean.
Many people in the neighborhood were baffled as to why a helpless newborn would be thrown into the local landfill to perish. Some people speculated that the child may be for a teenage mother, but the nurse asked them to hold off on drawing any conclusions and instead focus on rescuing the child.
She wrapped a piece of cloth carefully over him and passed him off to an elderly woman who would breastfeed him. The nurse insisted she takes the infant to the clinic for examination prior to placing him in foster care.
The police have been notified, and the District Social Welfare Department is aiding in locating this child's mother. If the effort fails, the baby will be brought to a children's home and raised until he is adopted.
Meanwhile, community leaders have paid a formal visit to the nurse to express their gratitude for her sacrifice in rescuing that infant. Since lunchtime, she has been the talk of the hamlet
.
ABOUT AUTHOR
Eugene Nyarko is an entertainment and showbiz pundit, writer and freelance blogger. He is passionate about what he does and has help increase the value of entertainment contents online. Eugene is also a Java programmer, you can contact him via Email- [email protected]